Testimonials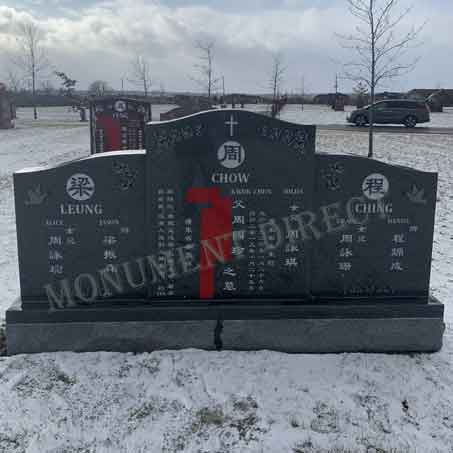 I had an excellent experience working with Monument Direct. They have provided exceeding quality of service. Sean and his team are patient and responsive to our requests. The final product was delivered in the way we have expected. The price is also reasonable. The whole family feels completly satisfied. We highly recommend Monument Direct to anyone in need of the service.
Wing C
---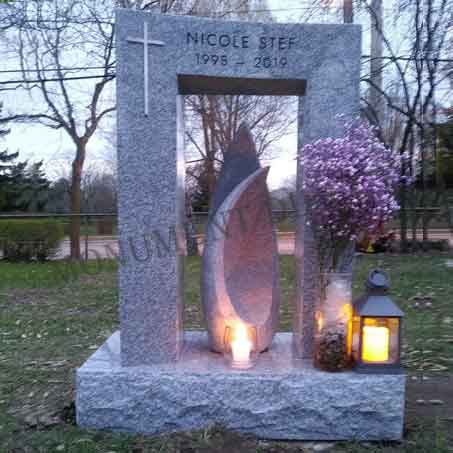 Hi Sean,
I want to thank you for the great work you've done for me.
I know I'm a very demanding customer and I appreciate your patience to address all my requests in the best way. I'm glad I picked you to build this monument that means a lot to me. I couldn't have picked better.
Best wishes,
Leon
---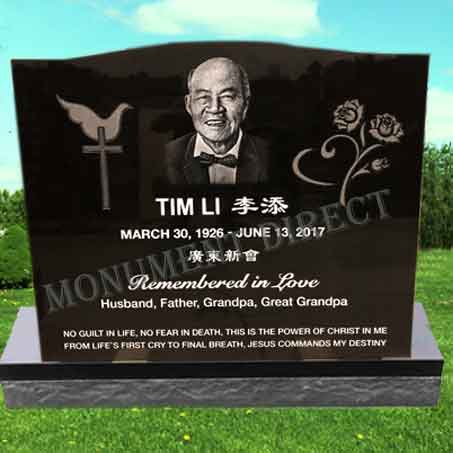 Monument Direct provided my family an excellent service in a very reasonable price. Sean, Sarah and Grace were all very patient, understanding and helpful. The stone is beautiful and the craftsmanship is superb.
Sean guided us through the process professionally. He discussed and provided expert suggestions to our own design layout and graphic elements with genuine care. Grace searched and downloaded the exact fonts that I wanted, and adjusted the letter spacing patiently per our discussion. Sara followed things up with both emails and phone calls.The engraving of the letters, the etching of our beloved father's photo, the two tone frosting of the cross and the shape carving of the roses were all very beautifully done. I am particularly pleased with the attitude of Monument Direct. Sean took care of our concerns and requests during the approval process promptly and in a very collegial manner. He even personally gave our dad's photo a finishing touch on the spot to get rid of some lines that we didn't like. (So make sure to check everything carefully so that all the issues, large or small, could be addressed before it is too late.)The two gentlemen who installed my father's headstone were equally kind, caring and professional.My family selected Monument Direct after visiting and comparing several monument makers. We have definitely made the right choice. We will highly recommend Monument Direct.Finally, a sincere thanks from my whole family to Sean, Sarah, Grace and the two gentlemen!Ivy Li
---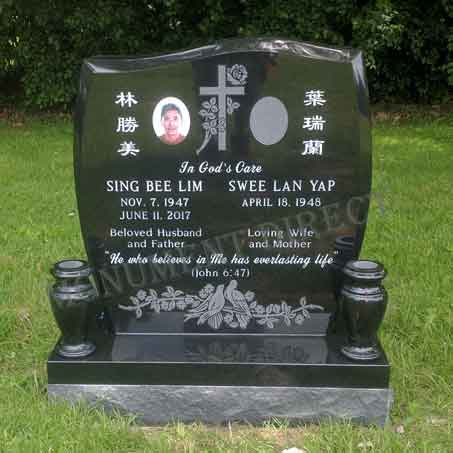 Thanks to Sean and his team at Monument Direct, we are all extremely happy with the results of our headstone.. and of course Sarah was amazing.. The final design & look was beautiful thanks to their designer and the person responsible for the carving. Installation was fast and we even received a photo right away once installation was completed. We also needed some flowers and headstone spray and they were able to help with that as well. Thank you so much to you all.
J L
---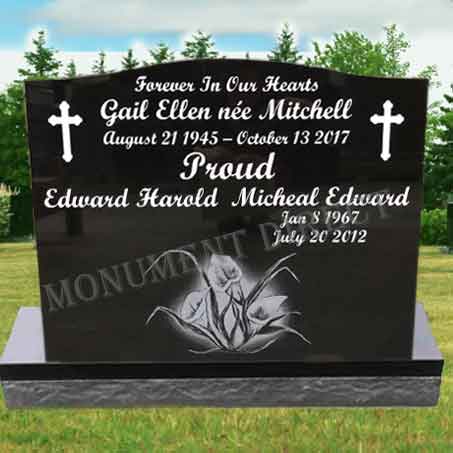 I found Monument Direct on Google and I dealt with Sean. The price was fair and the reason I went with them was the offering seemed unique and very professional. This week the job was completed and the workmanship/quality was very good and dealing with them during the process you was also very professional. I never even met them in person – everything was done via email and this took a lot of trust on my part. At the end of the day,they came through with an excellent job and no hassles. Kudos to them!!!
Steven Proud
---
Thank you Sean and Sarah. We went to see our installed monument today and we were very happy with the finished product. The quality is excellent and the monument looked very impressive. The price was very good for the product received and your friendly customer service was much appreciated. Thank you once again.
Pamela Bensley
---
Completely satisfied with Monument Direct. We had the pleasure of dealing with Sarah, who is professional, warm and truly understands what her customers are going through and knows how to handle them in their difficult time. They are very reasonably priced and deliver when they say they would. I strongly recommend Monument Direct to all who are in need of this service.
John Perioris
---
I cannot say enough good things about Sean and the rest of the team at Monuments Direct. If I could I would give them 10 Stars out of 5. I will repeat what was said to me by a friend who referred me to them… "don't even waste your time shopping around or going anywhere else." The quality of their monuments is top-notch. Their craftsmanship is exceptional and their prices extremely competitive.
Steve Trajkovski
---
Our family highly recommends Monument Direct. Mr. Sean Xu was courteous, respectful and extremely helpful during a very difficult and vulnerable time. The quality of the headstone and engraving was excellent and the turn around from concept to installation was much quicker than the competition. In addition to such a professional experience, the price was also very affordable.
Dianne Hayes
---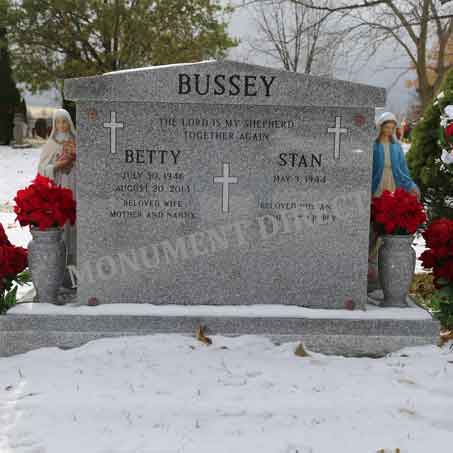 Hi Sean: I would like to take this opportunity to thank you for your amazing job you did on our family monument. As we both know my monument was very challenging to say the least. Your patience and understanding are to be rewarded. Your design and due diligence were meticulous. I am most pleased with the end results and highly recommend you to your future clients. Once again, THANK YOU so very much. Your friend, Stan.
---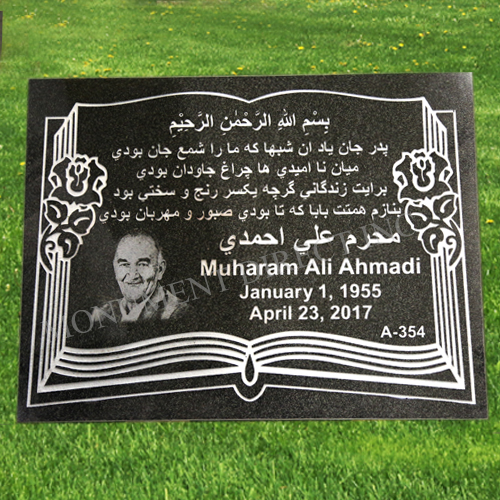 Very fast service..they keep following up and keep you updated of the request you have made. Very convenient that they are open on Saturday.                 The people at the office are very friendly and the space very clean.The responses via email and phone is so quick. I appreciate the service. Amazing
Fatemah Ahmadi
---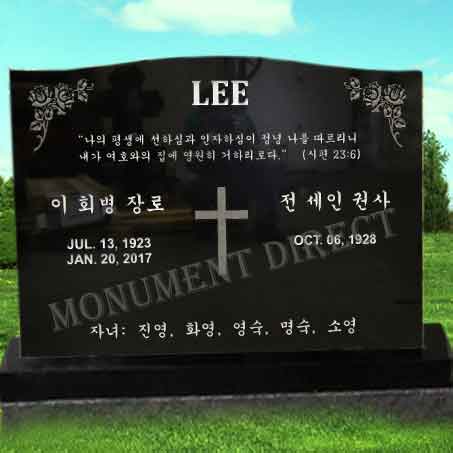 Sean & his team are stellar examples of professionalism & ethics; I was impressed at every stage of the transaction, from our first meeting to the very last; all deadlines were met & promises kept. Not only did they provide outstanding customer service, their prices were equally impressive, blew my other quotes away….which is logical since they have their own factory, and do not have to place orders from overseas (like most other companies). All in all, a huge thanks to everybody at MONUMENT DIRECT for making a difficult decision so easy…I would recommend your services to everybody who is in need; you guys are certainly the BEST….keep up the great work!
Janet Lee
---
Excellent service and price. Sarah was very kind and efficient. She helped guide us throughout the entire process. Would definitely recommend.
Daljit Kondel
---
Monument Direct gives one of the best services which are next to none. They offer the best quality of markers and stones which designed with very trained and professional staff, in a short time with the best and reasonable price you can find in the market. Mr. Sean with his pleasant manner is always cooperative and eager to complete the job, he guides and follows up on any detail of work. I am really blessed that found them, and I will recommend their services to everyone who searches top notch services.
---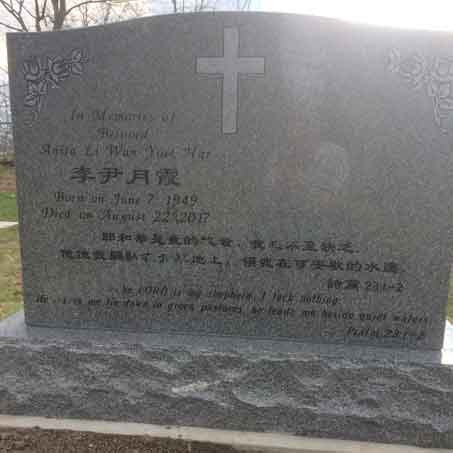 The service provided by Sean Xu and his team are so caring from start to end. Besides, their professional and technical know-how are impressive and most satisfactory. Thanks for the good work done – Sean and his Team!
Peter Li
---
My family and I greatly appreciated amazing jobs Sean and his staff delivered. When I started shopping around, the quote from Monument Direct was not the lowest. But I felt Sean would be the person who can help me. I am glad I was right. Sean and Sarah helped me in every stage of process. They spent time to understand my family and put them into the design. The final result was far above our expectations.
Vanes Zh
---
Monument Direct provided exceptional customer service and did an amazing job on the monument we ordered. Every step was communicated to us promptly and everything was done at the level and on time as promised. Sean at Monument Direct is highly professional and was extremely patient and respectful to all our requests/changes/revisions. Sean made the whole process for us very clear and easy. I would definitely recommend the company for their expertise, job quality, exceptional service and very competitive prices.
IIana
---
Sean and his employees do outstanding work. They are great to work with and always deliver as promised. I have used them two times and have been more than satisfied. My family and myself are very pleased with our monuments.
Thanks again Sean
Sincerely
Carolyn Terrion and family
---
We greatly appreciated what Monument Direct did for us. They did a very good job and were very patient, understanding, and detailed when designing the monument. They delivered a very high quality product, and also gave us a affordable price. I would definitely recommend their service to anyone in need of a monument.
Chritie Liu
---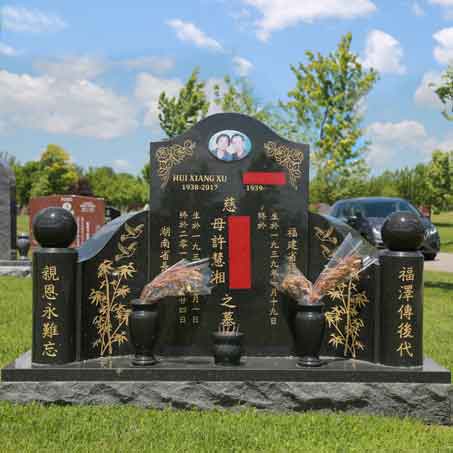 We greatly appreciated what Monument Direct did for us. They did a very good job and were very patient, understanding, and detailed when designing the monument. They delivered a very high quality product, and also gave us a affordable price. I would definitely recommend their service to anyone in need of a monument.
Grace Xu
---
Monument direct provided excellent service and delivered quality product. The owner, Sean, is extremely experienced, who knows detailed regulations about monument and installation. Grace, the layout designer, helped on customizing and perfecting the layout design. They both understood very well our expectations and are easy to communicate. We're very satisfied with the quality of monument installed.
Zhang Xin
---
From the moment we met Sean from Monument Direct we were treated with the most sincere and heart warming respect and compassion. He understood our loss and worked with us towards making our sons monument perfect!!! The etching artwork is awesome!!! I recommend Monument Direct for the great work they do along with terrific customer service at an affordable price.
Louis Milonas
---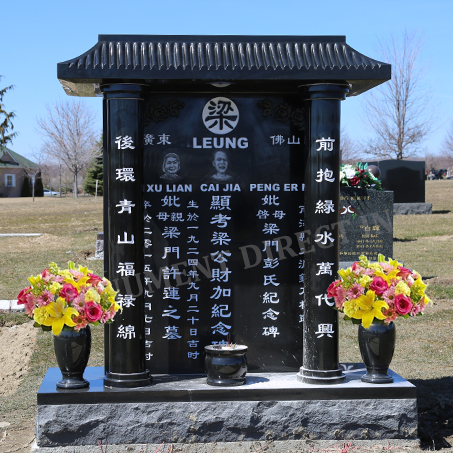 Dear Mr. Sean Xu,

     It had been a great lost to my family over my grandma's passing. Fortunately, you have been a

great help to my family, not only to set up the monument arrangement, but also your guidiance and

assistance had been comforting. My whole family is very appreciative of your work that we are very

happy to see the beautiful monument stones and also we've found the processes simplified and

easy to follow through. I believe that my grandma is also very happy and rest in peace. Once again,

thank you very much for everything.

Best regards,

Jason Leung
---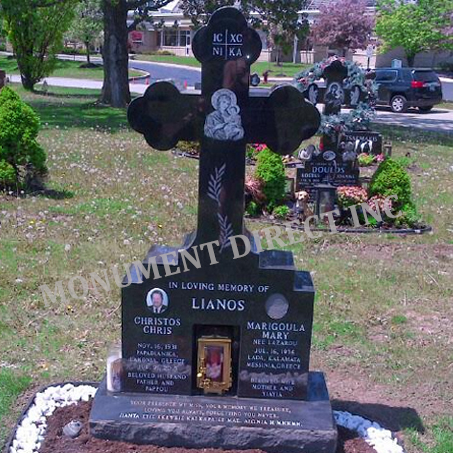 Hi Sean. Wanted to send you a short note to thank you and Monument Direct for all your guidance and assistance with my father's monument. Although a very difficult time for our family you were understanding and patient and assisted us right through the process of selecting, designing and delivering the monument exactly as we expected. My father would have been very pleased.        With gratitude,
Tessy Lianos Lampropoulos
---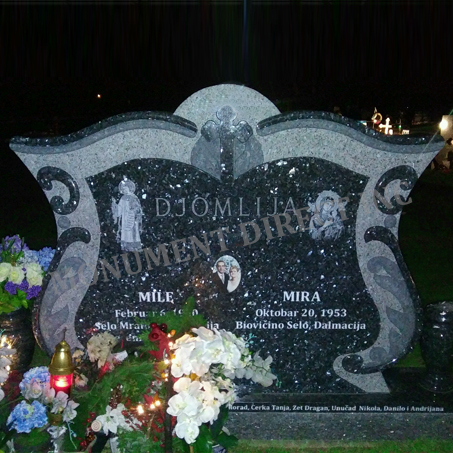 Monument Direct was extremely professional and went above and beyond my expectations. We wanted the most beautiful monument for my father and in our most difficult year Sean was patient with me with a million revisions and the monument arrived on time as promised. Also being in the United States and doing everything over email/phone I was very nervous but again Sean at Monument Direct always quickly returned my emails and phone calls and arranged transport and make a difficult process very easy. I would highly recommend them for the expertise, quality and customer service and their prices could not be beat.
Tanja
---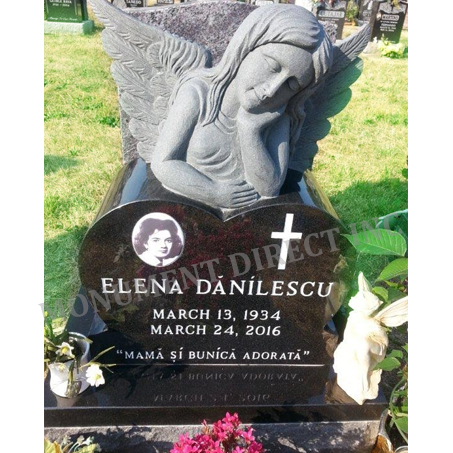 Sean Xu, the owner of Monument Direct Inc., did a fantastic job in honoring my grandmother, Elena Danilescu. From the moment my mother and I sat down with him, he listened to what we were looking for and executed it down to the last detail. We were very happy with the quality of the tombstone and the fact that Sean wrote the inscription in Romanian for us. Monument Direct delivers high quality products for reasonable prices. We really appreciated Sean's help and care when it came to the small details; I had a lot of questions as it was my first time planning a funeral and creating a tombstone; he even emailed us updates to let us know the progress he made on my grandmother's tombstone until it was completed.
My mother and I will recommend Sean and Monument Direct Inc. to anyone in need of their services. They are professional, attentive to detail and reasonably priced.
We have seen other people's testimonials on the website and that's how we found Sean. We are willing to attest ourselves that all the opinions about the quality of work and the products are correct and very on point.
We highly recommend Monument Direct!
Va recomandam Monument Direct! (Romanian)
Vous devez essayer Monument Direct! (French)
Recomendamos que llamen a Monument Direct! (Spanish)
Wärmstens empfehlen fur Monument Direct! (German)
Thank you again Sean for truly honoring my grandmother and giving us a beautiful tombstone to remember her by…
Sincerely,
Nicole Nedescu and Doina Howe
---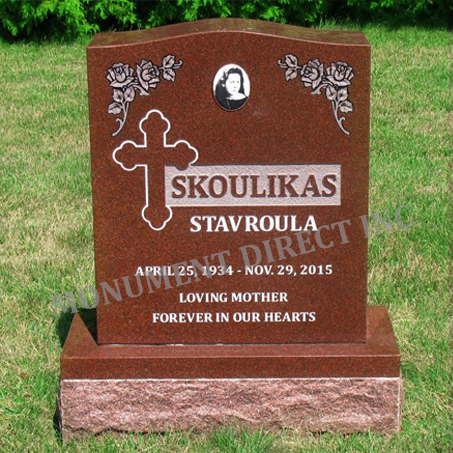 Dear Sean at Monument Direct, thank you so much for the great job you've done on my mother's headstone. My family and I thank you for all your hard work and professionalism throughout the process. You clearly understood what we were looking for and everything from her picture, the rose design and the  inscriptions are wonderful.  I will most definitely recommend your company to others.
Sincerely,
George Skoulikas
---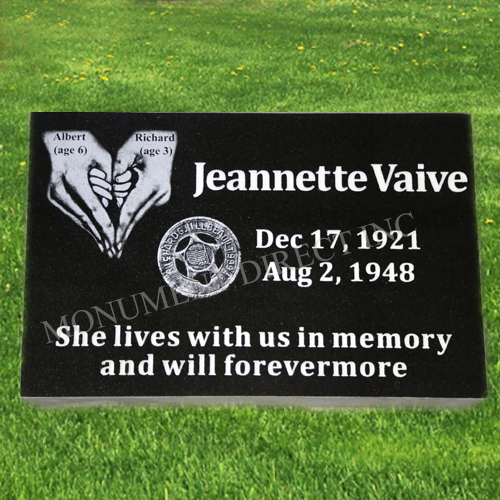 Hi Sean.
This is SO amazing.  Thank you for all your care, follow-up and attention to fulfilling my wish to surprise my dad with a stone honouring his mom.  It's beautiful!   I can't wait to surprise him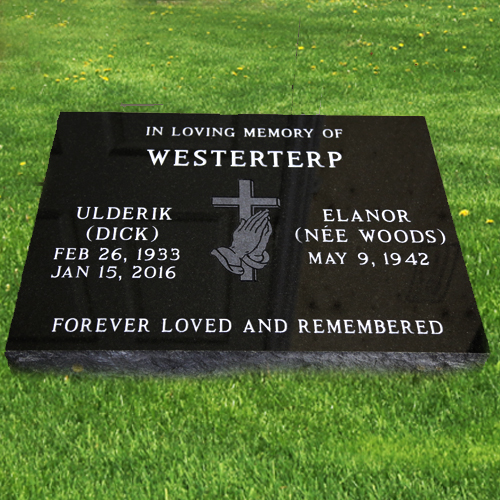 Hi Sean,
A sincere thanks to you and your team for the work, delivery and installation of the marker.  It was great to see it installed
on Saturday
morning at the interment service.  The family were all saying how beautiful it was and the quality of work on it.
Most grateful,
Mark Guiler
---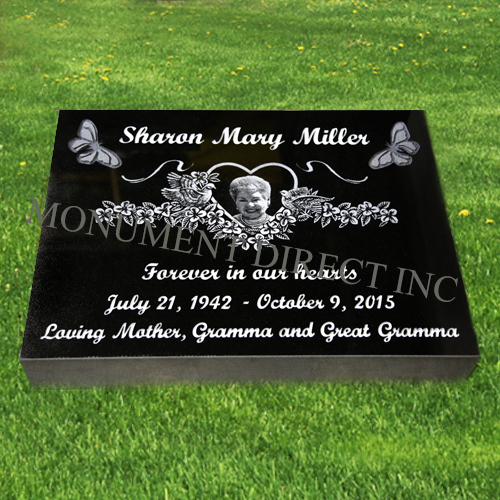 Thank you again from the bottom of my heart for all that you have done and the beautiful marker you have made for my family to honour our Mother.
Sincerely
Carolyn Terrion
---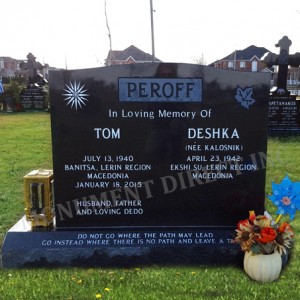 Good morning Sean,
I am extremely pleased with the service and product I received from Monument Direct. I sat with Sean and described to him exactly what I had in mind for my father's headstone. He listened and provided helpful suggestions. He made the  ordering process very easy and the cost of the stone was very reasonable. He provided a timeline of completion which was met. My family is very pleased with the final result. Thank you Sean and Monument Direct for your great customer service and quality product.
Thanks Sean, I will recommend your business to anyone that is looking for a headstone.
Susan
---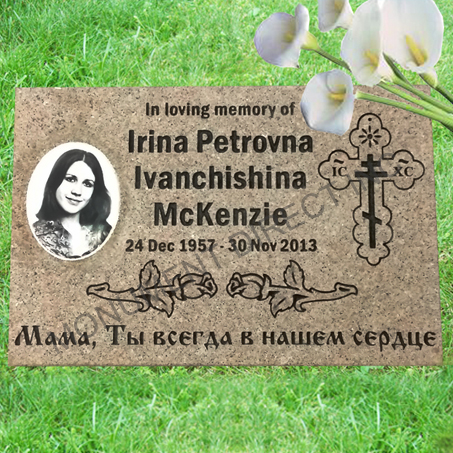 Thank you so much Sean you did an amazing job on the marker greatly apreciates and have a great day its Peter McKenzie
---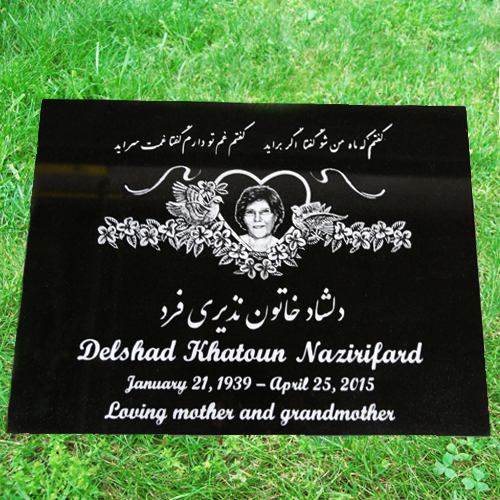 They did a great job on my late mother's marker and they were much less expensive than any other places I got a quote from.
---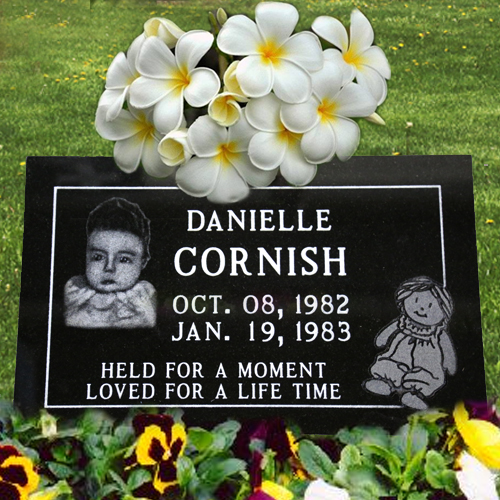 Sean is very friendly and easy to work with . The whole experience from the moment we walked in to the final project went smoothly and was more positive then I ever could of hoped . The final project was unbelievable . I am beyond happy and could not of thought of anything better . I would never look elsewhere and I could not be happier , my family is touched . What a blessing to find this place.
---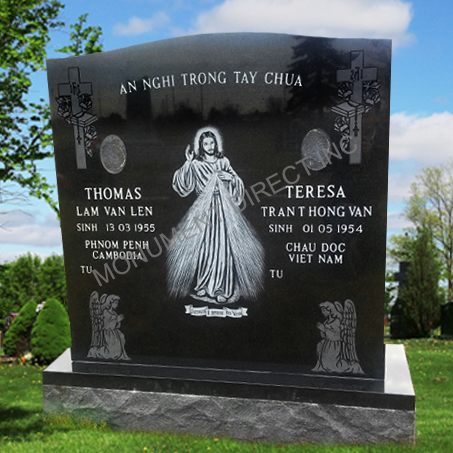 We bought a black stone monument with the decorate pictures from Monument Direct Inc.
We very happy because they did very good job. We will recommend my friends & everyone as we know, because they do good job & good service. the cost you buying cheaper than the other companies and good quality. Please look at pictures of my monument.
Chùng tôi đẳ đăt mua một mộ bia cuẩ Monument Direct Inc,Chùng tôi rất hailõng,rất vưã ý bỏi vi họ lãm rất đẹp,vãtheo ý cúa minh muốn,giá rất rẻ nếu so sánh ở chổ khác,chổ nâỹ ré hơn。Chùng tôi sé gìơi thiệu bạn bẽ tỗi đây đế mua。
Chùng tôi cám ơn ông Sean vã nhãn viên ví họ vui tính vã thân mât。
Lâm văn Lến
Hông vân Trấn
---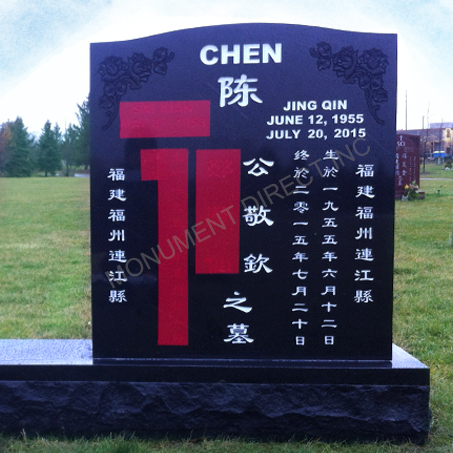 许先生: 你好 !  新年快乐 !
我堂兄的墓碑已于11月27日上午,你们的员工冒雨前往Brampton 墓地, 在11点前安装完毕。
在此我们非常感谢你们的大力支持和帮助, 预期完工。 附上墓地和墓碑相片。
Hi Sean
I just wanted to thank you for your exceptional service.  You were very patient and accommodating with my mother when it was time to decide on the style and design of my father's Memorial Stone. I also am thankful for being on time and getting it installed before the snow arrived!!  I would definitely recommend your services when needed.
Ήθελα απλώς να σας ευχαριστήσω για την άψογη εξυπηρέτηση σας . Θα ήταν πολύ υπομονετικοί και εξυπηρετικοί με τη μητέρα μου, όταν ήρθε η ώρα να αποφασίσει σχετικά με το στυλ και το σχεδιασμό του πατέρα μου Μνήματα . Είμαι επίσης ευγνώμων για να είναι στην ώρα τους και να πάρει εγκατασταθεί πριν από το χιόνι έφτασε !! Θα ήθελα να συστήσω σίγουρα τις υπηρεσίες σας όταν χρειάζεται .
Regards,
Nick Vrysellas
Broker of Record/Owner
Urban Village Realty Inc.
---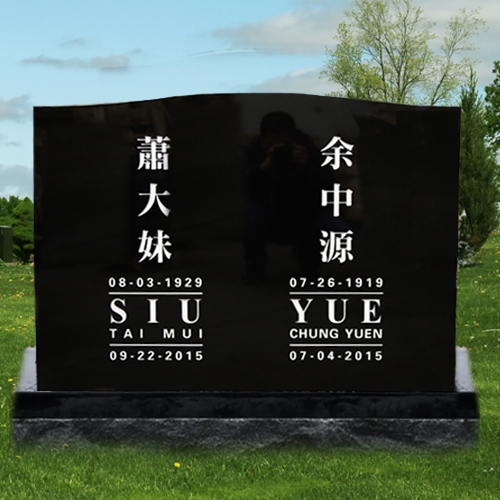 Hi Sean
I would like to tell you how wonderful your service is. Your assistance has been most professional. Your pricing is good as well and we are very satisfied. After we visited the cemetery and would like to tell you that you have done a great job on our parents' monument. Your quality of craftsmanship and good pricing really help us to honour our ancestor better.
Thank you for help again.
Kam
---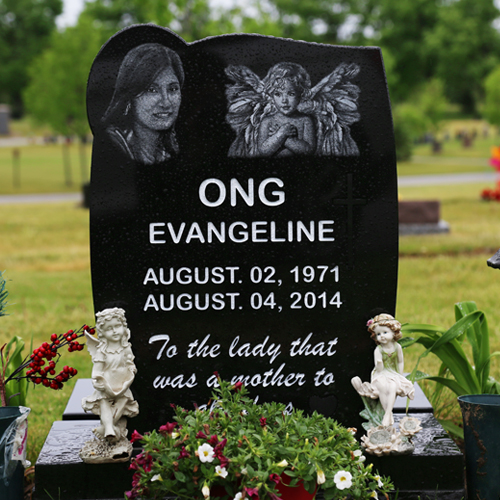 Hello, Sean,
Thank you so much for the nice monument you've created for my wife. You are trying a great person and showed compassion and empathy to me and my family. You've always remained professional and most especially your price is by far the greatest of them out there.
My kids, my extended family and I really loved your workmanship and I don't think anyone could have done it any better than this. Also, like I said that your professionalism is what drew me to finalize deal with you as I have been to other places that deal with monuments. It showed that they only wanted my money and did not even show any empathy at all nor even cared we were there.
For example, a lady from Midland Avnue, I entered to her place of business. She did not even acknowledge me and continued reading here newspaper. I began to ask her question and she told me to look around the place and if there's something I wanted then let her know and continued to read here paper. I am surprised her business is still open. With you, you remained professional and caring till the end.
For that, I thank you.
Sincerely,
Rhoel Ong
---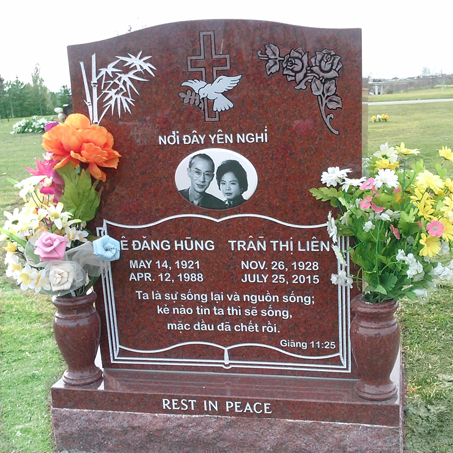 Dear Sean,
Thank you for your patience and your hard work. I am very pleased with the outcome of the monument.  You delivered what you promised. The details are exactly what we have designed which make the look warm, cozy and unique. We feel happy every time we visit our parents, knowing they live in a beautiful place in heaven and on earth.
Regards,
QL
---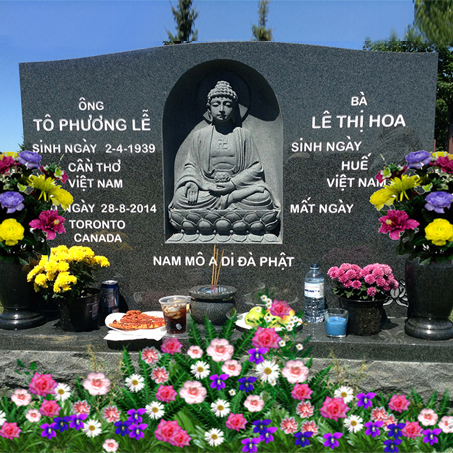 Hi,Sean
The work from your company and the satisfaction and the appreciation from us after our monument have done.
Qua su gioi thieu cua nguoi ban, chung toi da tim den Monument Direct de lam tam bia tren mo cua nguoi than ,chung toi da rat hai long ve su tan tam, vui ve va nhiet tinh cua moi nguoi lam viec tai Monument Direct,ngoai viec chon khac ten , chung toi muon duoc khac tuong Phat A Di Da o giua…ket qua that hoan my,gia ca lai phai chang,xin  cam on Monument Direct.